Play activities
Movement is fascinating for children.
It is always exciting and engaging to jump, spin, swing or see-saw. Hence, movement has been designed to be at the core of each element of our play equipment. The main constituent of our stuctures is rope. The rope acts to combine form and function as it is both the main structural and the play element. The form of which a rope can take is only limited by the imagination: the rigging of a ship, a predator's trap, a liana, mountains, a knight's castle or an ufo….the possibilities are endless! The flexibility of rope enables the child to 'connect' with the equipment, as every action is followed by a reaction. Furthermore, all elements our equipment offer play activities: climbing, swinging, blancing etc. encouraging a sense of agility, achievement and power in a playful environment.
Playgrounds should be as varied, safe and durable as possible – this is the intention of planners and architects, and naturally ours as well. We believe in innovative development and continually strive to improve our play equipment and accessories. Thus we have created the concept of a 'living playground', which enables an unlimited number of individual playscapes to be formed through the combi­nation of modular play elements.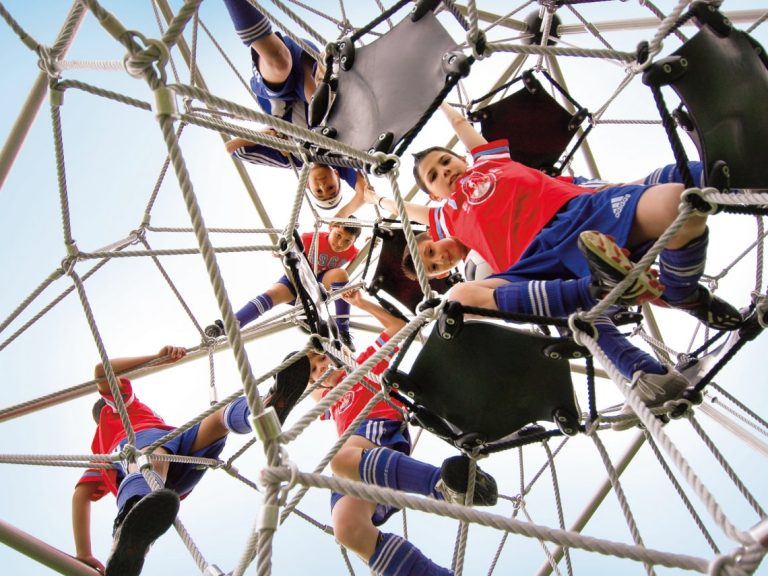 Environment and sustainability
Our playgrounds are built for generations.
They are sustainable because due to using high quality materials and first-class workmanship they last extra long. This protects the children, saves the environment, the resources and the lifecycle cost.
· 70 % of our steel and 85% of our aluminum is made of recycled material.
· Our bamboo panels are more wear-resistant and durable than tree wood. It's carbon footprint is many times better.
· All of our production has been PVC-free for many years.
· All remaining materials are put back into the recycling process.
· Our state-of-the-art powder coating process works solvent-free.
· All of our products meet and exceed the regulations for lead in paint, lead in substrate and phthalates.
Since February 2018 the Berliner Seilfabrik is certified according to the international environmental management standard (ISO 14001:2015).
At Berliner Seilfabrik, we don't just think green, we work green.