Greenville
Greenville is a spe­cial prod­uct range that, through being enhanced by bam­boo pan­els, speaks a nat­ur­al design lan­guage all of its own. Indi­vid­ual mod­els with­in the range can eas­i­ly be com­bined.
Overview of product groups
Numerous combination possibilities
Tri­itopia
Tri­itopia com­bines award-win­ning design with tried and test­ed mate­ri­als! A mag­i­cal world of climb­ing and adven­ture where real­i­ty and fic­tion blend togeth­er and evolve into the unpre­dictable inter­play of see-through and closed façade ele­ments that are com­bined in closeknit, nes­tled and asym­met­ric ways. Diverse net pieces invite you to climb, and lead to numer­ous cor­ners and angles, and up to view­ing areas and slides on dif­fer­ent lev­els. Let the var­i­ous Greenville prod­ucts merge into one anoth­er. A new world will arise.
More about triitopia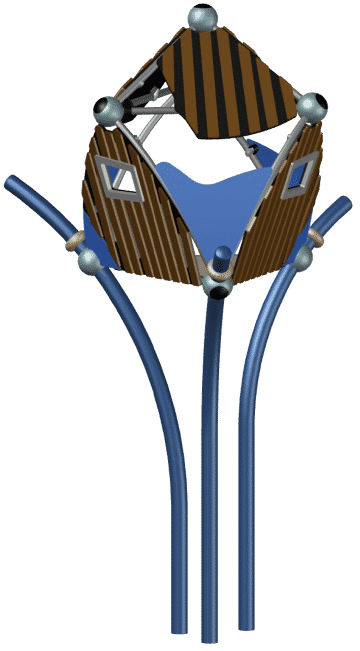 Tri­is
The idea of climb­ing a tree just to see the earth from anoth­er per­spec­tive is as old as the trees them­selves. This idea was our inspi­ra­tion to devel­op the Greenville Tri­is. These beau­ti­ful­ly designed play­hous­es in dif­fer­ent sizes need at least an access or a con­nec­tion from anoth­er Trii. Cre­ate your own Trii-House-Vil­lage.
More about the triis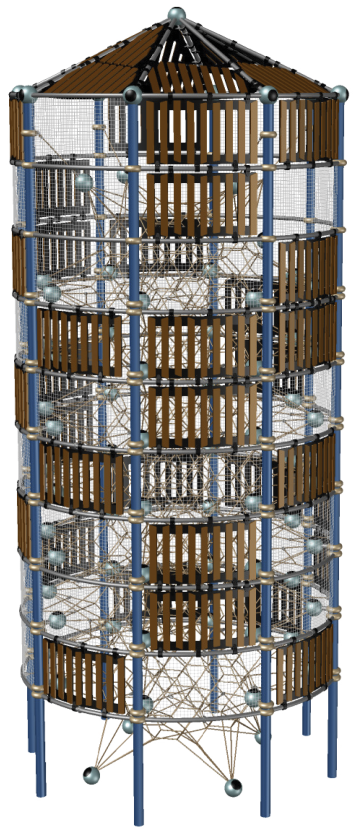 Tow­ers
Fur­ther devel­op­ment of the Greenville rope play hous­es and tree hous­es has cre­at­ed new oppor­tu­ni­ties in the design of play­grounds and the uti­liza­tion of space, while blend­ing in with the nat­ur­al sur­round­ings. The Tow­ers pro­vide the answer to three key play­ground require­ments. First, their height ensures that max­i­mum play vol­ume can be cre­at­ed in a small­er play space, as is shown in the Greenville Style series, with tall tow­ers con­struct­ed in diverse designs. Sec­ond, the Tow­ers can be com­bined in end­less con gura­tions through the use of excit­ing con­nect­ing ele­ments. And third, sig­nif­i­cant height dif­fer­en­tials can also be com­pen­sat­ed for because of the exi­ble nature of the bridges and tun­nels.
More about the towers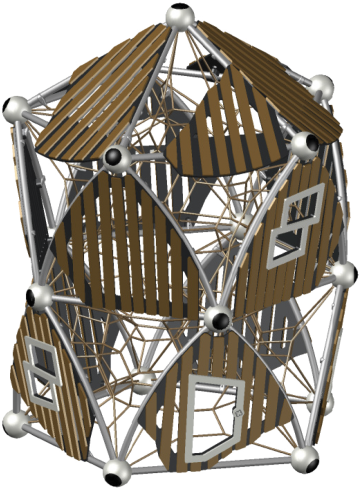 Play­hous­es
The space net as a play com­po­nent is the per­fect base for a struc­ture on a play­ground to climb in. Climb­ing in a three-dimen­sion­al net is a chal­lenge and stim­u­lates 3D think­ing and the psy­chomo­tor skills of chil­dren. Three-dimen­sion­al nets in an out­er frame also offer numer­ous com­bi­na­tion capa­bil­i­ties and thus out­er­frame struc­tures are used to build a huge com­bi­na­tion from the start or keep adding to it step by step. The Greenville struc­tures even become bet­ter by adding the bam­boo pan­els to give them the resem­blance of a clas­sic play house in nature, while still being more valu­able with a three-dimen­sion­al net for climb­ing and the space for recess like a play­house.
More about the playhouses