Ropes and tensioning system
The steel cable was invented in 1834.
Berliner Seilfabrik commenced processing of steel cable in 1865, gaining a world renowned reputation for the manufacture of quality cable. We continue to use these traditional methods of cable manufacture to produce the U-Rope used in our play structures. Thus it can be ensured that the quality and safety specifications of our ropes are in accordance with our high requirements.
Furthermore, because we manufacture our own rope we are able to tailor the equipment to individual customer specifications with ease. Consequently we offer a broad range of rope diameters, wire cross sections and rope colours. We have a cable suitable for every application – regardless of the purpose or loading condition.
The external rope strands are covered with Polyester yarn (carpet yarn standard), ensuring maximum abraision resistance and colour fastness. Our steel wires, com­pliant with EN 10264, are galvanized and have a strength of 1770 N/mm2. For most ropes in reach of hands we use four-stranded cables, which have the same design as fibre ropes. This results in a course surface texture which provides an optimal grip.
90.992.160

16 FLEX 4 PA FE
Ø
16 mm 5/8"
F
26,40 kN
Flexible rope for small nets

90.995.185

18,5 ABSP 5 PA SES
Ø
18,5 mm 3/4"
F
91,08 kN
Bracing cable

90.990.160

16 STAN 4 PA SE
Ø
16 mm 5/8"
F
39,34 kN/td>
Standard rope for nets

90.993.210

21 KLET 6 PA FE
Ø
21 mm 13/16"
F
39,60 kN
Soft rope for vertical climbing ropes

90.991.160

16 RAND 4 PA SE
Ø
16 mm 5/8"
F
64,68 kN
Edge rope for nets

90.994.250

25 ABSP 8 PA SES
Ø
25 mm 1"
F
158,80 kN
High tensile bracing cable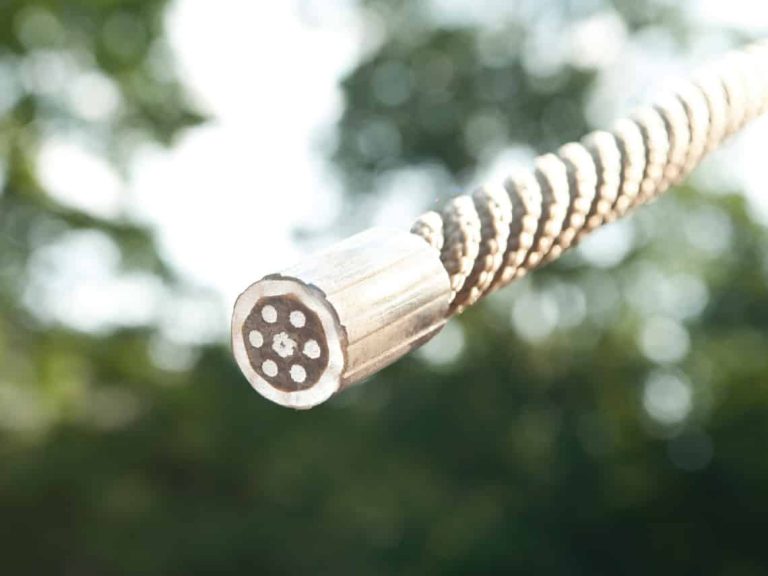 Aluminum spheres
On the outside 85% recycled aluminum, on the inside our spatial net tensioning system, AstemTT, sealed with a durable hard rubber cap.
The aluminum spheres are sandblasted and solvent-free powder coated, protecting against corrosion. Here pictured in a matte grey aluminum (RAL 9007). But you may choose any colour.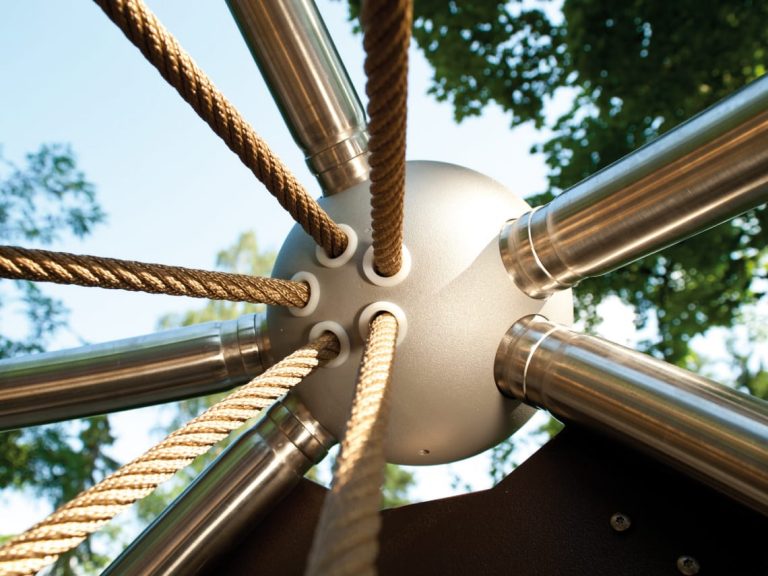 Our patented AstemTT tensioning system
In order to ensure the children's safety during free play on our structures, all technical connection elements have been banned from the play zone.
Our patented tensioning system contains eyelets, loops, thimbles and hooks inside of the aluminum spheres. It goes without saying, that thanks to our tensioning system the net can be tensioned particularly easily and evenly.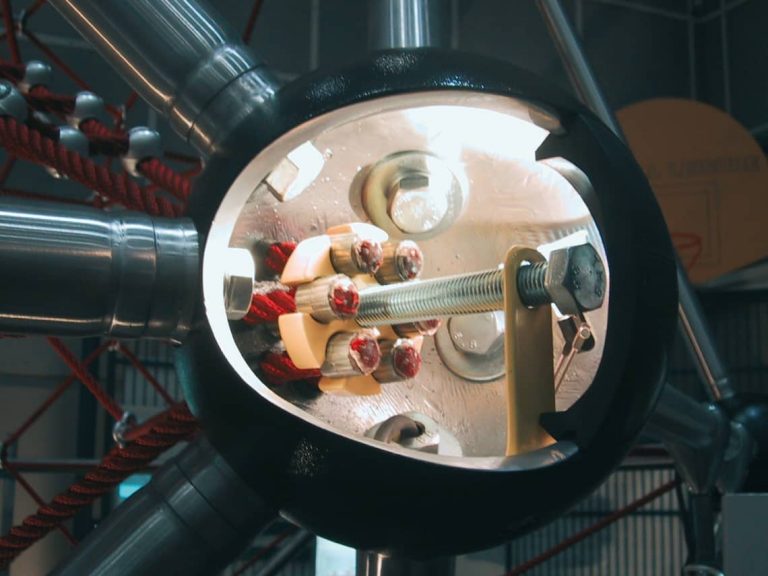 The cloverleaf ring
The cloverleaf ring connects ropes at their crossing points.
Because of its elaborate shape, it does so child-safely and without sharp edges or entrapments. Together with our patented tensioning system, AstemTT, the cloverleaf ring makes the replacement of individual rope strands on site a simple task, without requiring any special tools or equipment. The cloverleaf ring is made in a forging die. Thus, the aluminum's fiber course is optimized and the ring enormously long-lasting.